about BHAGWAN NITHYANANDA
The life and divine mission of Bhagwan Nithyananda
In the late 18th century he mysteriously arrived as a baby in Kerala and grew up traversing the globe until about 7 decades of phenomenal divine work in the upliftment of human consciousness
Quilandy near Tunneri Village
The arrival of Raman (Nithyananda)
Near the end of the 18th century, Bhagwan Nithyananda arrived on the Earth plane in a small village named Tuneri village, situated in Kozhikode, Kerala. His arrival was very mysterious and there are no perfect records. Bhagwan himself also never gave any importance to the subject. Whenever asked about his birth, he just said, "Two crows came, two crows flew away."
This statement itself is very mysterious and difficult to perfectly ascertain the meaning, though it has deep relevance. But the casuality with which it was made by Bhagwan is itself an indication of how least important were the details. He even scolded a person who asked about visiting Bhagwan's birthplace as to "What is there in there?" History from certain descendants, however, speak about an old couple Chathu Nari and Unniamma Nair having found a child in the forests of Tunneri village near Quilandy. Though they were poor and had their own children, they adopted the baby and named him Raman. By the time the child was 6 years of age, Chathu Nair had already expired and Uniamma was ill. Realizing that she would not be able to look after Raman, she handed over the child to her landlord Shri. Ishwar Iyer, who was a well-to-do lawyer and who had many farms and land on which worked the poor couple. Ishwar Iyer who had a daughter and three sons, happily adopted Raman as his own.
How Raman came to be known as Nithyananda
Little Raman grew up under the foster care of kind Ishwar Iyer. Around the age of 13, Raman was taken along with Ishwar Iyer for a spiritual trip. After a visit to Banaras (now Varanasi), Raman made a surprising statement to his foster father. He said that he would not be able to return back to Kerala as he would be visiting further up North.
A disappointed Iyer returned back alone after failing to convince Raman, but with an encouraging promise from Raman that he would visit him at the right time. From there Raman visited and stayed in the Himalayas and also is believed to have visited many other countries like Sri Lanka, Burma, Singapore, etc
Years had passed and Ishwar Iyer was getting his daughter married and longed for his dear Raman. To his surprise, Raman arrived, in time at the occasion of the marriage. Ishwar Iyer fell sick and he was aware that he had numbered days. Before he passed on, he had an earnest hope – to have a darshan (divine glimpse) of his Ishtadevata (chosen deity of worship) – Surya Narayan, the Sun God. Raman was aware of this and one day, he bestowed the divine vision of the Sun God to his foster father. Experiencing supreme bliss, a deeply-contended Ishwar Iyer exclaimed,"Nithyananda! Nithyananda! (Eternal Bliss) You have brought me eternal bliss. You are Nithyananda! You will bring eternal bliss to the world." Ishwar Iyer passed away in deep content.
Bhagwan in Kerala and Karnataka
By this time, people had begun seeing Nithyananda as an Avadhoota and was seen in many places of Kerala like Quilandy, Kanyakumari, Calicut, Thalasherry, Kannur, Kanhangad, Kumbla, Manjeshwar, Neeleshwar,
Udupi, just to name a few. He very spontaneously performed many miracles that began attracting big crowds of people. Many were healed. Many unimaginable incidents like trains stopping, people spotting him simultaneously at multiple locations, water being produced at needed places, standing and living atop trees, sleeping on rope, incurable diseases being cured, lives revived, and many such divine feats began happening around hims (mentioned in the section – Divine Leelas of Bhavagan)
Bhagavan Nithyananda then wandered many places in Kerala in his divine elevated states of consciousness. Thousands of people began experiencing the touch of Nithyananda's grace in their lives. Nithyananda hardly spoke with anyone for he always remained absorbed in Supreme Consciousness. Wherever he went, people who came in contact with him experienced some or the other miracle, which they lived to later share with others, many of which were recorded and even today are shared in the current generation of people.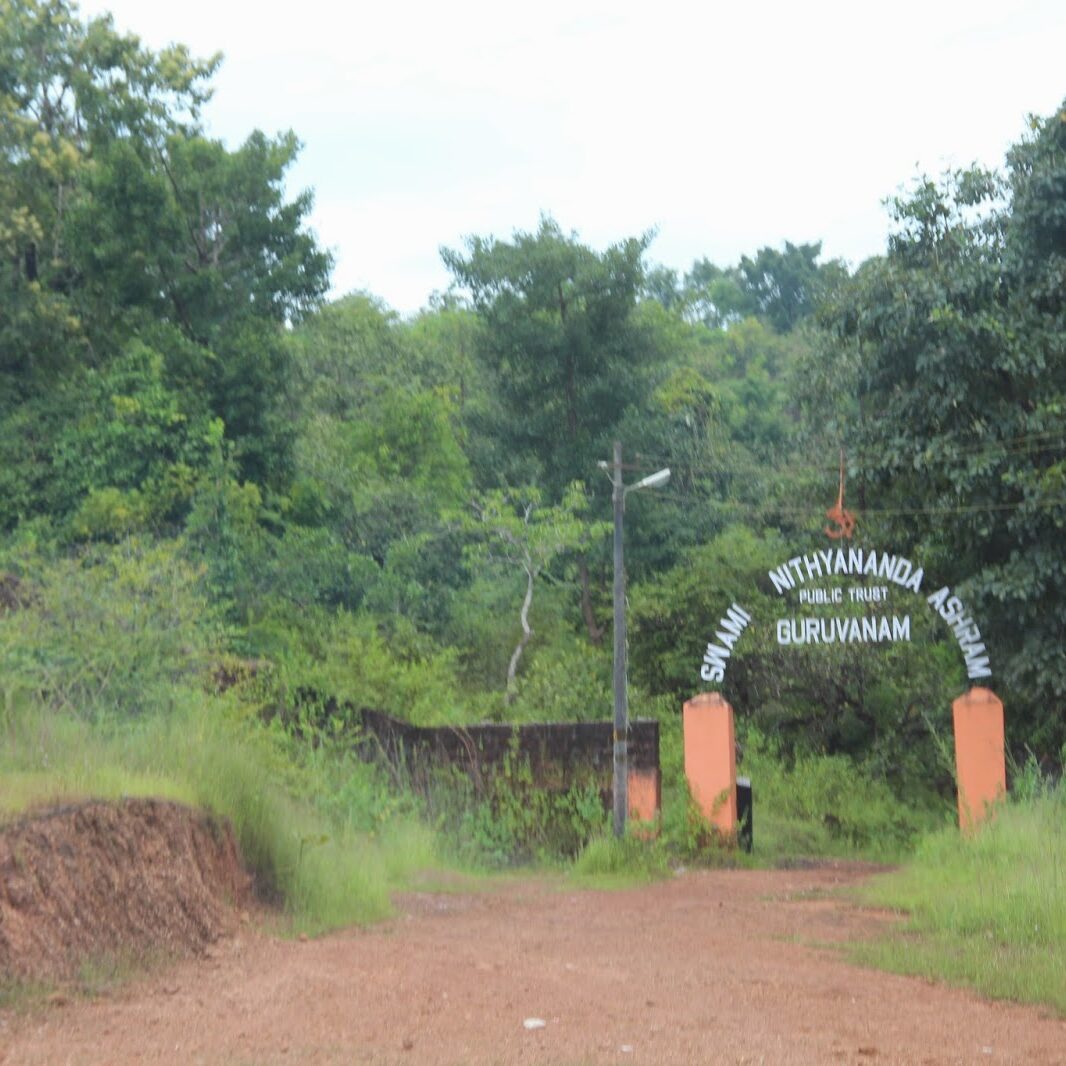 In his adolescence he visited a small hill that later became known as Guruvanam, which happens to be in the city of Kanhangad Taluka, which was major place of the divine work of Bhagavan. Here he is known to have a spent a great deal of time in the cave that is preserved today as sacred and holy in Guruvanam. Many mysterious happenings were reported here (which can be read in the section of Guruvanam from the menu list)
Nithyananda was then seen about 5 kilometers from here close to the dilapidated Hosdurg Fort. He spent a great deal of time at work, digging upon a huge rock and building the 43 caves, that later became the hub of the ashram standing there today. He stated that the Kanhangad Ashram is a University for sages and that,
one day, sages of the new era will make it a hub for their spiritual pursuits. He spent many days working on these caves, often found lying on a huge rock in deep samadhi in the hot sun. To read more about the 43 caves click here.
Bhagavan Nithyananda spent about 25 years in Kanhangad after which he moved to Ganeshpuri.
Before reaching Ganeshpuri he moved through various locations in Karnataka and Maharashtra. He was then seen living in huge pipes in Kurla, Mumbai. After that he was seen at Akroli near Vajreshwari, where he spent many years before actually moving to Ganeshpuri in 1936. After coming to Ganeshpuri, Bhagwan never physically left this place. Here, he lived among the adivasis (tribals), uplifting their lives in many ways by helping them with food, education, clothing and other basic amenities of life. Bhagwan lived in a small hut initially which later expanded to Kaliasa Bhavan due to the rising quantity of visitors. Beggars to celebrities to bureaucrats to great Yogis and Sages visited Ganeshpuri thronging to receive the blessings of Bhagwan. All who came here received bountiful only to keep alive the grace of Bhagwan in their lives and pass it on to the their next generations, which is even today alive and active even amongst the little children of those families.
Bhagwan enters Mahasamadhi
Bhagwan Nithyananda entered into Mahasamadhi on August 8, 1961.
Bhagwan chose this day to leave the earth, hinting to few that he was needed in another realm of dimension. That is how the work of the Eternal Nithyananda is. The manifestation of the Parabrahma or the Supreme Consciousness, the one that is Omnipresent, the one that is never born and never dies – the Eternal Nithyananda.
Those who met Nithyananda were from all walks of life. Nithyananda blessed all. Yogis and Sages sat in his vicinity, knowing the importance of silence and the value of "silent communications". Many received shaktipat just by being in his presence. Bhagwan mentioned clearly, "This one has no Guru and no disciples." but yet those who were touched, illumined and enlightened by his grace, further went out into the world and spread his glory and grace, thus keeping the flame of Nithyananda prevalent even to this time. Bhagwan was not much known while he was in his physical body due to the extreme low profile life he maintained, but the powerful grace and divine energies soon spread through the illumined ones who had received his grace, and soon it spread around the globe. Today, Bhagwan Nithyananda is known around the globe as he continues touching the lives of those who have known him and also those who have not clue about who he is.
The Chidakasha Gita of Bhagwan Nithyananda
The Chidakasha Gita is a compilation of words uttered by Bhagwan Nithyananda in elevated state of consciousness, while he was staying in Mannagudda, Mangalore in Karnataka somewhere between 1920 – 1927. At that time, a fond woman devotee named Tulsi Amma made note of these words in Kannada language. Since Bhagwan would utter these in trance, many were in bits and pieces, but they became the gathered pearls of Tulsi Amma, without whom we would have never known much about Nithyananda.
Like to receive updates to your email?
Subscribe
Simply subscribe to receive all new posts and updates from the ashram